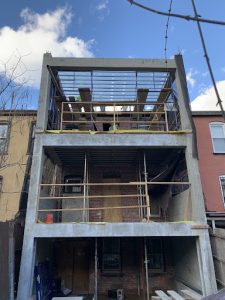 The recent project at 244 Putnam added a 13' x 20' extension to the existing envelope and a 20' x 30' addition to the top of the building. There was tremendous reinforcement needed. Both at the rear of the building to support the additional pressure as well as support in the cellar for the additional weight from the top of the building.
We were able to avoid underpinning by creating concrete bond beams around the cellar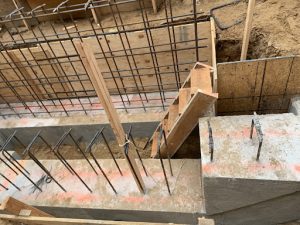 rear and heavy concrete columns which traveled up the entire rear of the building. There was also a structural wall at the garden level, both in the extension and at the excavated portion of the rear garden. We were able to avoid having to hoist steel beams to the top of the building by utilizing a bond beam around the roof line perimeter. This allowed us to build the top floor in light gauge steel framing.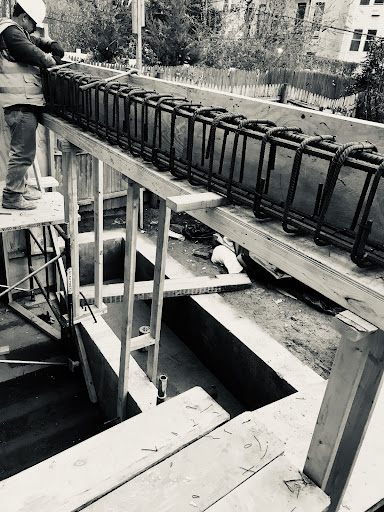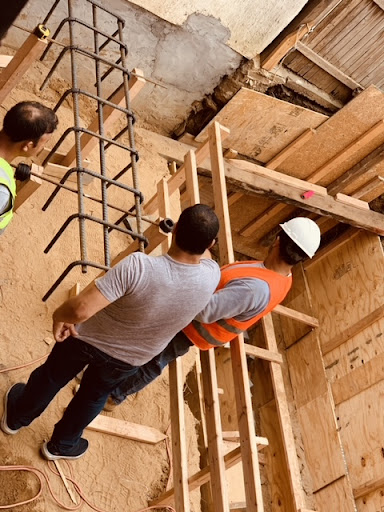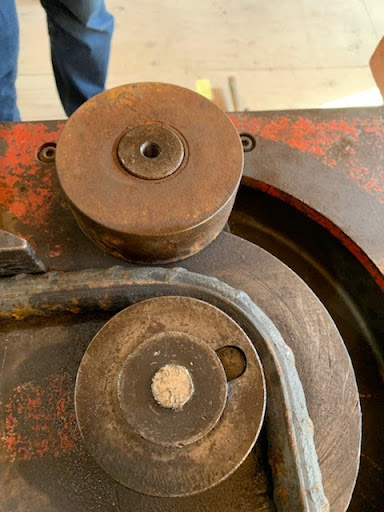 Creating the beams and columns required an interior skeleton of varying and specific sizes of rebar spaced at specific distances. These were built into plywood boxes which serve as the mold for the beams and columns. We created all rebar rings on site with the machine shown. This skeleton was inspected prior to each pour by a special inspector to ensure that all rebar was the correct size and spacing. Once the concrete was poured he would remain on-site to ensure the concrete was mixed correctly and aerated correctly when poured into the molds.
The concrete pours became such a ceremonious part of the construction process. With the inspector present and watching each pour, a larger than usual crew of day laborers worked the various steps of mixing. A symphonic rhythm existed during the pour between those who shoveled the concrete into the cement mixer, those who added water, those who poured it into the forms, those w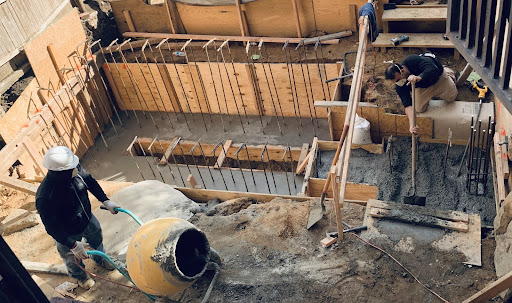 ho aerated the wet concrete. There are certain parts of the project which feel momentous like when tile or flooring is being laid. However, pouring beams and columns to watch a new structure take shape and grow was certainly the most momentous.
If you are looking for advice in any part of evaluating a fixer upper, please feel free to contact me for resources and assistance at townhousetherapytati@gmail.com or call (917) 697-0117.