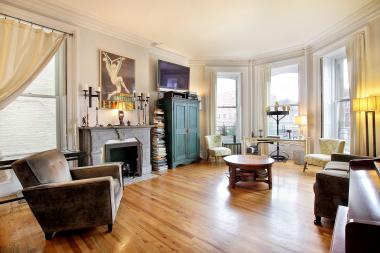 By Amy Zimmer on January 3, 2014 8:03am  @the_zim
BROOKLYN — House hunters looking for a deal amid the charming blocks of brownstone Brooklyn or the trendy corners in the north of the borough might be out of luck — and may have better luck in Manhattan.
The ever-shrinking pool of Brooklyn listings pushed prices up more than 13 percent in the fourth quarter of 2013 from the year before, according to a report from Ideal Properties released Friday.
From Park Slope and Prospect Heights to Greenpoint and Williamsburg, bidding wars were pervasive, with nearly 62 percent of homes selling at or above asking prices.
Also, with rising rents in these Brooklyn areas, it's doubtful that demand for sales will dampen — even in the face of climbing mortgage rates, said Aleksandra Scepanovic, managing director of Ideal Properties Group.
"Higher interest rates seem to have done little to curtail demand, which in turn is continuing to fuel rising prices," she said.
"And with 2013 having left many buyers in Brooklyn wanting more, the constrained inventory may very well lead to prices escalating further in the new year."
Homes in these neighborhoods cost roughly $970,000, on average, according to the report.
Condos, in particular, saw prices soar — they went for an average of $876,227, which was roughly 27 percent higher than the fourth quarter of 2012. The median price — the amount being paid at the middle of the market — rose 5 percent to $671,857 over the past year.
Despite the rising prices, sellers still needed to be realistic to see their homes fly off the market in a matter of weeks, said Frederick Peters, president of Warburg Realty.
"There were these very substantial price escalations in Brooklyn," he said. "But even in the midst of that, if sellers were overly ambitious buyers just weren't biting. There is a more acute consciousness of not overpaying."
Yet some parts of Brooklyn have become more expensive than Manhattan and will continue to catch up this year, experts predict.
"Brooklyn has become a first-choice destination," Peters said. "It's more like people are moving back to Manhattan because they can't afford Brooklyn."
Boerum Hill hit the highest average sales prices in brownstone Brooklyn at $1.73 million, up more than 50 percent from the year before, according to Ideal's report. Williamsburg was the priciest in north Brooklyn with prices averaging $1.08 million, up nearly 36 percent over the past year, the report said.
The cheapest area covered by the report was Windsor Terrace, where homes went for an average of $566,818, which was actually down from the year before when prices averaged around $700,000.
Brooklyn's inventory isn't likely to expand much in 2014, said real estate expert Jonathan Miller, though he noted that the real estate market across the river in Manhattan may finally see more homes come to market.
"Brooklyn is more severe in terms of the inventory," Miller said.
Though inventory in Manhattan's fourth quarter fell to a record low, it was likely at or near bottom, he said.
Just as the price growth of Manhattan's rents is slowing down compared to Brooklyn, so is the price growth of its sales.
The average sales price for Manhattan's fourth quarter was $1.54 million, up 5 percent from the year before, according to a report Miller wrote for Douglas Elliman released Friday.