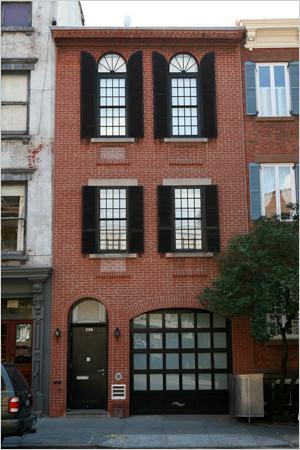 SOURCE: New York Post
MILLIONS of New Yorkers compress their lives into small spaces and yearn for things that their friends in the suburbs don't think twice about: an extra bedroom, a patch of grass, a little distance between themselves and the neighbors.
Circle the block five times looking for a place to park, and another wish can be added to the list: a private garage.
A recent check of real estate Web sites turned up about a dozen listings for town houses with private garage space in Manhattan and Brooklyn, ranging in price from $1.195 million, for a brownstone in Crown Heights, to $18.75 million for a restored carriage house in Greenwich Village. "I can't imagine any greater luxury than a garage," said Kirk Henckels, a Stribling & Associates broker. "It's not the square footage in Manhattan that counts. It's the amenities."
Town houses with existing garages and curb cuts on the sidewalk command a premium when the houses are resold. That is partly because getting approval from the city to create a new curb cut involves navigating a thicket of building regulations and approvals.
The Department of Buildings has approved only 54 new curb cuts in Manhattan so far in 2008, and only 57 curb cuts in all of 2007.
Jonathan Miller, chief executive of Miller Samuel Inc., the real estate research company, estimates that a garage adds about 5 percent to the price of a town house in Manhattan. Brokers say that in some neighborhoods, that number can reach 20 to 25 percent.
Enrico Cinzano, an heir to the Cinzano spirit and wine fortune, has owned his six-bedroom town house at 40 West 10th Street for 16 years and is offering it for sale at $18.75 million.
"In my experience, above and beyond the rarity of having the garage with a curb cut, the garage door affords privacy and security," Mr. Cinzano said in an e-mail message.
His broker, Michael Pellegrino of Sotheby's International Realty, said the garage added at least $1 million in value to the property.
The carriage houses that the wealthiest New Yorkers had at the turn of the last century were the forerunners of the town-house garage, which sprouted in the 1910s as cars became common for the very wealthy.
Some of them still exist. The 1916 Lucy Dahlgren house, at 15 East 96th Street, included a garage with a turntable floor, allowing several cars to be moved in and out easily. The carriage house at 69 East 93rd Street that once belonged to George F. Baker Jr., head of a financial firm that was a predecessor of Citibank, has space for eight cars.
Edward Lee Cave, a broker specializing in high-end properties, said many families moved out of these lavish homes with garages after World War II when domestic help became harder to find. "The families felt like they would never want to live like that again," he said, adding that now, in the new century, "the fortunes are equivalent to the fortunes of 1900."
Along with the privacy and security they provide, garages make it possible for homeowners to move large objects in and out easily. Jean Lignel, who used to own Le ProgrŠs, a newspaper in Lyon, France, kept the large garage door at his five-bedroom town house at 230 West 10th Street but used the space for his piano.
After he bought the house in 1996 and started renovating it, he turned his garage into a music room. But keeping the original garage door lets him transport his art collection in and out.
The town house is now on the market for $18.5 million, and the garage could easily be returned to original use. The broker, Tatiana Cames of The Corcoran Group, says that prospective buyers who have toured the house consider the garage a major reason to buy. She estimates that it adds 20 percent to the home's value.
"Everyone who has been interested said they would have a car," she said.
Of course, the attractions of having a garage don't apply just to the city's wealthiest. Donald Correia, a Halstead broker, owned a town house with a garage on the Upper East Side from 1994 to 2005. He found it helpful when raising a family in Manhattan because he could run errands and cart his family around on short notice.
But after their sons left for college, Mr. Correia and his wife, the actress Sandy Duncan, decided to downsize to a smaller Manhattan apartment. They now pay about $550 a month to park their car in a nearby lot and dearly miss their private garage.
"My wife and I talk about it all the time – longingly," he said. "Even if you have a doorman, you have to lug stuff."
Mr. Correia is a broker for a five-bedroom carriage house with a garage at 174 East 75th Street, priced at $6.8 million. He said he considered garages priceless for overscheduled families because they offer the luxury of "spontaneity, the freedom to do what you want to do when you want to do it."
In some cases, it is the garage that sells the house. Stephen Robb, who sells computer systems, had no renovation experience, but in 2005, when his brother, a real estate lawyer, told him about a brownstone for sale at 262 West 139th Street for $850,000, Mr. Robb took a look.
The house, which is part of Strivers Row, had sat empty for 25 years. It had no roof or windows, but it did have a tumbledown garage that opened onto a private alleyway, one of the few in Manhattan.
Mr. Robb spent two years renovating the house, which now has six bedrooms and five and a half baths, and has it on the market for $3.25 million through Vie Wilson, a Corcoran broker. Ms. Wilson estimates that the garage adds a 25 percent premium.
Mr. Robb agrees that it's quite an asset. "It was an attraction to buy the house," he said. "Where in Manhattan do you get a private attached parking garage?"
Some real estate investors think a garage is so valuable that they design the entire house around it.
Justin Georges recently finished building a six-bedroom town house with a one-car garage at 11 East 128th Street, now on the market for $4.2 million through Brian Phillips, a Prudential Douglas Elliman broker.
Mr. Georges contends that garages have surpassed the value of many other luxuries. "There's always the need for a garage," he said, "even more than an elevator."
Other New Yorkers with growing families find that once they have a garage, they often want the other luxuries that come with suburban living.
Earl Beecham said he spent so many years struggling with parking in Bedford-Stuyvesant in Brooklyn that he could have papered his walls with parking tickets.
When he moved into a four-bedroom brownstone at 1230 Dean Street in Crown Heights, Mr. Beecham reveled in having a garage and a driveway.
As he and his wife, Marisol, renovated the house and prepared to start a family, the garage gave him space to store rakes, shovels and other gardening paraphernalia.
Now the Beechams have decided to sell their brownstone, which has been listed at $1.195 million by Eric Davis of The Corcoran Group. They're hoping to move outside of the city, where they can have space for a larger family.
Until then, their garage is an ideal parking space for baby gear that is already too small for their fast-growing 8-month-old son, Tyler.
"He's outgrown this stroller," Mr. Beecham said. "He's outgrown this playpen. All of these items are keepsakes for him or his brother or sister."