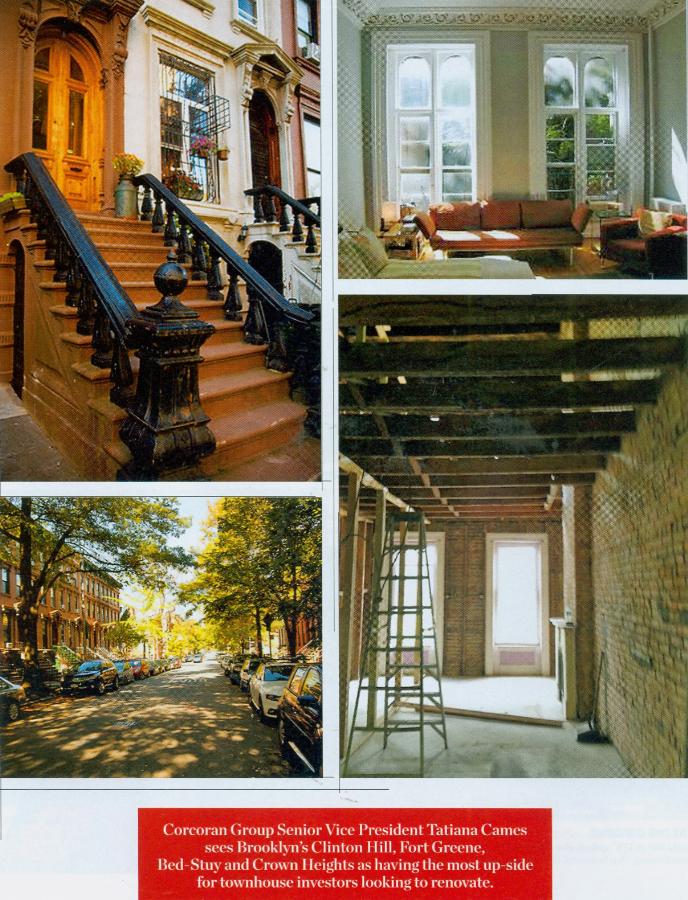 BUYING A TOWNHOUSE is a monumental and exciting decision-especially in New York City. The housing stock here is gorgeous, varied and historic. Townhouses tell the stories of their neighborhoods. Architectural clues reveal some surprising past uses and tenants. Owning and living in a historic townhouse is a tangible way of linking to New York's history. It can also be a great investment.
Tatiana Cames, Senior Vice President at Corcoran Group Real Estate, bought her first townhouse in the West Village on Grove Street in 1992 for-wait for it-a jaw dropping $700,000. It was a combined affinity for the Village and a business savvy that attracted Ms. Cames to her Grove Street investment. The bohemian vibe and roughness of the neighborhood meant more square footage was more affordable than many other traditional Manhattan neighborhoods. That also meant the building wasn't perfect. Ms. Cames had issues getting the ruffian tenants out before she could even begin the restoration work.
"It was eight units and some of them were in really bad condition and the building itself-the facade was blue-they had tried to do this New Orleans thing with blue and black and white checkered linoleum inside," Ms. Camessaid. "Everything was painted blue and white. It was hard to see past [with] what was done to it."
But, she said, she's definitely glad she did. "Quite a good investment," she commented. After living at her Grove Street address for over two decades, Ms. Cames sold it for $8.25 million last year. No, Ms. Cames can't predict the future; she just saw what looked like a smart buy and took the plunge.
"It was about the value. Buildings were still under a million-probably between five and nine at that time. It was really the bottom of the market and for the same price range you could get maybe a two bedroom otherwise," Ms. Cames said. "It was a time when the income could really pay a lot of the expenses. Taxes were low and obviously a mortgage on something under a million-you could definitely absorb a lot of your expenses through renting part of the house. That's no longer the case in the Village."
That last fact is bemoaned by many who were either too young or too slow to take advantage of the real estate opportunities that, in hindsight, were no-brainers. Ms. Cames believes that in Manhattan, the deals to be had already have been-but with a little bit of digging, Talin Sarraf, a licensed real estate salesperson with Prudential Douglas Elliman, thinks a determined buyer can eke out a great deal.
"Some hidden gems in Manhattan will include the Upper West Side," he said. "There is also Chelsea … Luxury apartments are selling at over $2,000 per square foot in these areas. However, you can find luxury finished townhouses at levels well under that, averaging around $1,800 per square foot. Raw townhouses are often found under that at under $1,000 per square foot."
Investors seeking to replicate Ms. Carnes mind-boggling success need only look to an outer borough. In fact, that's what Ms. Carnes is doing herself. She has two restoration projects in Brooklyn where she thinks "the numbers work a lot better." She suggests that future homeowners and real estate investors look there as well.
'I like Clinton Hill, Fort Greene, Bed-Stuy, Crown Heights. That's where I'm seeing the most upside right now," Ms. Carnes said. "You have tremendous cap rates in some of these neighborhoods and in resale-the values are increasing still tremendously from one year to another because the neighborhoods are developing so quickly."
But delving into a townhouse restoration project isn't a decision to be made lightly. It's a process that requires focus, attention to detail and organization. Sloppiness and laziness will almost inevitably lead to longer turnaround times, missed problems, more expenses or could even cause the whole deal to fall through and your almost-home to disappear. Having the right people is crucial as well.
"Really do your due diligence on the architect and general contractor. Design¬build firms can also streamline the process," Doug Bowen, Senior Vice President and Associate Broker at CORE, said. "Just as you would get competitive bids from a plumber or an electrician, you want to do your homework on the person who you are entrusting to captain your ship for a multi-month to multi-year long process. Most importantly, choose someone who you think will be fun to work with."
Even the most careful planning and re-search doesn't account for everything.
"Cost never stops being a surprise," Billy Morrissette, a seasoned investor who's owned, restored and lived in historic townhouses and lofts in NYC, as well as properties in Los Angeles, said. '1 just re-did a friend's small bathroom in the Lower East Side, and even picking the lowest cost items we could, the price was three times [what] I expected."
"Count on spending at least $200 per-square foot MORE than your architect and contractor tell you to budget for," Brett Miles, Senior Vice President and Associate Broker at Town Residential agreed. "Manhattan townhouses tend to have hidden surprises, especially if the work involves excavating."
Ms. Cames also said it's something for which potential townhouse owners need to prepare.
"Have a good amount-a little safety reserve left over in your budget when you start," she said.
Even a restoration veteran like Ms. Cames can run into an unexpected multi-week setback. One of her Brooklyn restoration projects has been delayed by at least a month because of major floor and structural issues.
"The way the plumbing was done-they had carved out a huge chunk of the beam to set the pipes in so there was very little beam left. Also, the beams were more narrow than usual, and then there was a lot of leaking over the years which had destroyed those beams which were already completely mangled from cutting," she said. "In the basement there was a crack in the lateral beam but we couldn't see how much that had effected the other beams upstairs and it had effected them a lot."
"Every time a plumber touches some-thing it's $1,000 it seems," Mr. Morrissette added.
But with no risk, there is no reward. Sometimes, old stuff is way cooler than new stuff.
"I've always loved historic buildings because they have the most character," Mr. Morrissette said. "When you're working with an old apartment or building, you automatically have this built-in coolness that never goes away. Even if you designed the place with modern everything-the 'bones' of the place are still there. I grew up in a little Connecticut suburban development where all the houses look the same a la Edward Scissorhands … So I guess when I finally got out, old peeling molding appealed to me."