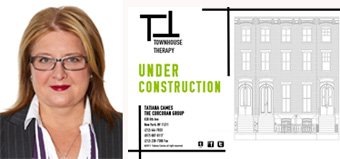 Tatiana Cames, a senior vice president at the Corcoran Group who began her real estate career with the purchase and renovation of her own Italianate townhouse in the West Village in the early 1990s, is now launching her own company, an online blog, forum and listings service called Townhouse Therapy, which will serve as an insider's guide to buying, renovating and investing in townhouse renovation projects.
The New York City-based website will launch Feb. 2 with an after-work cocktail party at the Ramscale at 463 West Street. It will include advice from Cames on purchasing, renovating and restoring townhouse properties, a list of recent townhouses to hit the sales market, as well as a directory of recommended engineers, architects and contractors.
"It's about taking a broken home and bringing it back to its former glory," Cames said of her new company, noting that while it [is] initially conceived as just a website, (townhouse-therapy.com), it may evolve to have a service component as well, where Cames would help clients one-on-one with their renovations. "Now that I have my general contractor's license," [she] may be able to offer more, she said.
Cames said she will remain committed to her position at Corcoran, which she's held for 12 years, despite her new venture.
The idea for the site, she added, came out of a blog she started on the subject of renovations in August, which picked up steam and attracted a lot of visitors. There is no one else out there with a comparable product, she said, noting that she was aiming to make advertising revenue from the site once it found its feet.
Lydia Rosengarten, a director of sales at Leslie J. Garfield and Co., who had not heard of the website said it "sounds like a nice resource and a good tool for the kinds of people that [Cames] works with."
"There are buyers out there that want to buy something that needs touching up," she added, "but when you start talking about structural renovations, it becomes intimidating."
Cames, who renovated her first townhouse, at 30 Grove Street, in the early 1990s and sold it for $8.25 million last year, is currently working on two separate restorations projects in Brooklyn, she said, and work on another is set to begin in the next few months.
Work finally began earlier this month at 341 Hancock Street in Bedford Stuyvesant, a 17-foot-wide property near Tompkins Avenue, and construction is ongoing at another property at 103 St. James Place in Clinton Hill. Cames has also gone into contract for another Bed-Stuy home.
Cames said prospective townhouse owners are often deterred by the fear of renovation, especially if they have little or no experience with the processes involved. If they are willing to take a leap however, these projects can reap hefty rewards.
"Particularly in Brooklyn," she said, "there's a possibility of living virtually expense free [with the purchase of a townhouse.] If it's a two- or three- unit home, you can have very good income [by renting out the other units] and very low property taxes."
Common challenges include working with the city's Department of Buildings, which has become much more stringent on restrictions since Cames first began restoring properties, she said, and maintaining the historic integrity of original buildings.
It's an ideal time for a venture like Townhouse Therapy, judging by recent reports which suggest that the market for these kinds of homes is shooting through the roof. For developers, they are less costly and easier to finance than condo projects.
Thursday's event will feature a complimentary bar with hors d'oeuvres from Kyotofu, music from DJ Reni Lane and artwork in the form of one-of-a-kind photographs of townhomes and renovations from renowned photographer Emma Cleary for auction, for which all proceeds will go to the Greenwich Village Society for Historic Preservation, an organization that seeks to see original historic townhouses restored to their former beauty.